Mountain Guide Eric Charamel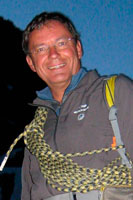 Languages spoken:





(O Эрик)
Mountain Guide Val d'Isere Les Arcs
When passion meets professionalism: Live every moment to the full and enjoy sharing it with others.
Eric arrived in Bourg Saint Maurice at the age of three and so has spent almost his entire life in the Haute-Tarentaise. Whilst studying to become a physical education teacher, Eric also obtained diplomas as a high mountain guide and ski instructor. After several years working in schools around the region, and as head of training for ski instructors and mid mountain guides at Bourg Saint Maurice secondary school, Eric changed career paths.
While never losing his passion for the mountains and skiing, he became managing director for various mountain and ski equipment and clothing companies (Degré7, Millet, JanSport, operational manager for the brands Twinner and Sport 2000, MD for Lafuma). After 20 years somewhat distanced from the profession of Mountain Guide, Eric returned to the snow, more passionate than ever and enjoying every minute of it with the ski and snowboard school Initial Snow.
Val d'Isere and Les Arcs remain his favourite playgrounds, but he also loves to give his skis an airing in the snows of terra incognita. Every year he organises ski touring trips to Canada, the USA and in Kamchatka and throughout Europe

eric@initial-snow.com
Eric : + 33 (0)6 82 46 31 32