Ski instructor Nicolas Piguet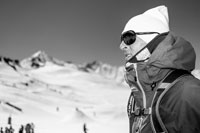 Languages spoken :


Ski instructor Les Arcs Paradiski
A 38-year-old ski and snowboard instructor living in the resort of Les Arcs, Nicolas has been skiing for 35 years and snowboarding for 15..
Much of his childhood was devoted to acrobatic ski competitions with the sports club at La Clusaz. Nicolas qualified as a ski instructor in 1997 and co-founded the lnitial-Snow ski school, working as a ski instructor in Chamonix, Val Thorens, and 11 seasons in Les Arcs..
A skiing specialist, his speciality if freeride and heli-skiing. On several occasions, Nicolas has taken part in the Les Arcs freeride competition on a snowboard. His best classification is 4th.
His work as a ski instructor earned Nicolas an appearance on French national television (France 3) and he has often featured in specialist mountain press.
Fascinated by electro music, he also performs in clubs as a DJ under the name of "The Mentalist"

nicolas@initial-snow.com

Nicolas : +33 (0)6 10 73 23 28